The cold weather, social distancing requirements as well as the closure of many gyms and community centres have made it harder to stay fit and exercise. Many people, including seniors and individuals coming out of rehab are looking to purchase exercise equipment, such as recumbent bikes and steppers that they can use at home to stay active or recuperate after surgery.
However, not all equipment is created equally. In this post, we will guide you through the 5 essential features to choosing the right cross-trainer for rehab and seniors, using the NuStep Cross-Trainer as an example.
We'll highlight the importance of safety and effectiveness in exercising at home for seniors and people living with a chronic condition or recovering from an acute illness or injury.


1) Safety Seat
Most bikes include seats without any support or safety mechanisms. Not only is this uncomfortable but it can be problematic for users who require additional help to get on or off the exercise equipment due to their age or physical condition.

What makes the NuStep cross-trainer different?

The NuStep Cross-Trainer features a comfortable seat that spins a full 360 degrees and can be locked every 45 degrees; this allows users to access and transition onto the seat from any angle at wheelchair height. The NuStep T5 offers additional 10-degree recline, and the T6 model offers 12-degree recline. 
2) Secure Foot Pedals
A lot of ellipticals and trainers feature standard foot pedals that can be found on regular bikes. Unfortunately, these pedals are dangerous as they afford no extra stability or support, whether when a person climbs onto the bike or while pedaling.

What makes the NuStep cross-trainer different?

The NuStep foot secure system has two adjustable straps on each pedal for easy comfort adjustments. The ergonomic pedals keep feet stable and secure in place during exercise as they have a very deep heel cup. These straps along with other accessories can be added to any model of the Nustep for a safer ride.
3) Locking Handles and Pedals
On any cross-trainer, it is important to have locking handles and pedals to secure movement when getting on and off the machine. This is especially critical for seniors or injured people who may not have enough balance to safely get on or off a bike or elliptical.

What makes the NuStep cross-trainer different?

All NuStep models come with the StrideLock feature for a secure transition of movement. StrideLock allows users to lock the arm handles and foot pedals with the push of a button. The locking mechanism keeps the handles and pedals securely in place to help facilitate safer transfers.
4) Adjustable arm handle
When choosing a cross-trainer, make sure you look for one that offers adjustable arm handles to stabilize the upper body for optimal exercise and rehab results. 

What makes the NuStep cross-trainer different?

NuSteps offer an easy-to-adjust clamshell release, which is located on the arm handle. Users can determine the optimal arm handle length for maximum ease and comfort. The rubber hand grips are soft, comfortable and simple to clean. The unit itself is maintenance free.
5) Low Step-Through design
A lot of falls happen even before people begin exercising on a piece of equipment. Most standard exercise bikes have a high step-through design that can easily cause someone to lose their balance and fall. 

What makes the NuStep cross-trainer bik different?

The NuStep's T5 and T6 models offer a very low step-through design to safely get on and off of the bike. As you can see by the image below, these NuStep models enable an ergonomic way to mitigate any risks for accidents.
When it comes to choosing an exercise machine for seniors or patients undergoing rehabilitation, safety always comes first. That's why the NuStep is a go-to choice for consumers, physiotherapy clinics, hospitals and seniors residences. 
Learn more about NuStep and each model
Learn more about the NuStep T4r >
Learn More about the NuStep T5 & T5XR >
Learn More about the NuStep T6 MAX & PRO >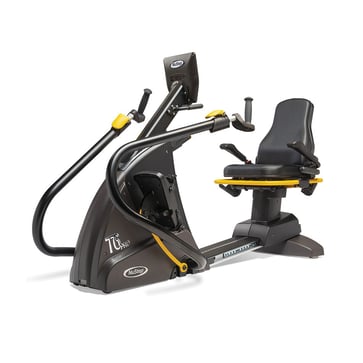 Frequent Asked Questions
Does the NuStep cross-trainer bike offer a good workout?
NuStep's inclusive, low-impact, total-body design and wide range of resistance levels allow for a full-body cardio and strength workout. The seated (recumbent) position reduces the risk of falls. It is recognized by Arthritis Foundation's Ease-of-Use Commendation. 
Is a recumbent bike as good as walking?
Recumbent bikes put less strain and pressure on joints versus walking, which is ideal for seniors or people with preexisting conditions, such as arthritis, chronic pain, or physical limitations. It also provides a low-impact full body workout.   


Is the recumbent bike bad for knees?
Recumbent steppers tend to be a better choice for knees because of the sitting position as well as the fact that the pedals are located at front, which means less impact on joints.
Is a recumbent bike good for hips?
Recumbent steppers are ideal for people who have hip pain due to arthritis, broken hips etc. Contrary to upright bikes, they put less strain on the back as well as on the hips due to their reclined positions.
What is the best exercise machine for seniors?
As mentioned above, NuStep recumbent bikes have earned the Arthritis Foundation's Ease-of-Use Commendation. Products with the Ease-of-Use Commendation are proven to make life easier for people or seniors who have arthritis and other physical limitations. 
---
Meet our OrthoCanada NuStep Experts


Ask us anything about NuStep!