Thank you, Team Canada!
Canada has earned an impressive 24 medals in the 2020 Tokyo Olympic Games. We are honored to catch up with Olympic Games Chief Therapist Lois Pohlod and share her experience of this extraordinary Olympic Games under the pandemic.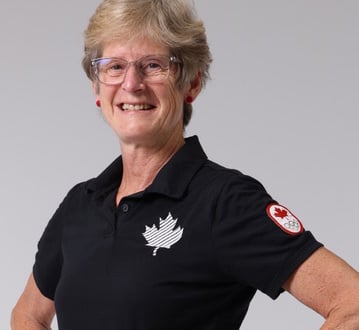 About Lois Pohlod
B.Sc.PT, Sport Diploma
Chief Therapist 2020 Olympic Games, Tokyo
Chief Therapist 2016 Olympic Games, Rio de Janeiro
Chief Therapist 2014 Commonwealth Games, Glasgow
Chief Therapist 2013 World University Games, Trentino
Chief Therapist 1999 Pan American Games, Winnipeg
& K-Taping Academy Canada Instructor.
---
Team Canada's performance at the Tokyo Olympics was outstanding! Athletes rely on the medical team's skills to help stay at their peak for their events, and the addition of the COVID-19 protocols was an additional responsibility. How did that affect your role as Chief Therapist?
I was a part of implementing the required COVID-19 protocols and helping to set up the necessary equipment. We needed a lot of dedicated equipment to ensure athletes and staff were protected – hand sanitizers, thermometers, masks, and all the supporting technology.
My role included educating all team members about the clinic set-up and the COVID protocol, how to follow it and to make sure standards were maintained. Japan had strict protocols for daily Covid testing. Upon arrival each team member was given a bag of test tubes for the daily 'spit tests.' I understand there were 600,000 'spit tests' done over the course of the Olympics!
We were also required to wear masks the better part of 24/7 the entire time we were there. Sometimes we double masked if the transport bus was very crowded. Wearing a mask got to be so natural that it felt odd not to wear one all the time when I got home.
One good thing was the amount of space we had at these Olympics. At Rio, the treating professions were assigned two apartments with a mix of physicians and therapists in one apartment, and another apartment for Core and NSO therapists. In Tokyo, to maintain Covid protocol requirements, we had three apartments. I would joke that I had 'died and gone to therapy heaven – so much space!
The hardest part was having to stay in our 'Canadian bubble'. We could not leave the village except to go to the venue where we were working. We did not have the opportunity to meet other PTs and exchange ideas and treatment approaches or see other events.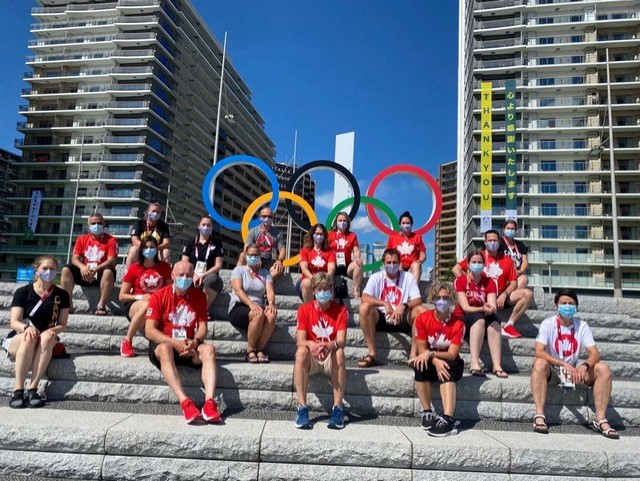 Core Health Sciences Team at Olympic Village and Olympic Rings 2020
What was a typical day like for you at the Olympic Games?
There was no 'typical' day. Although I was working with athletes on the badminton and the triathlon teams, as Chief Therapist my overall focus was operational - to know who would be in the clinic when and adapt to changes on short notice.
Time management was a big challenge – to balance time at the clinic with time at events, and still have the flexibility to send a therapist to help a colleague for another team, or to a team that did not have a dedicated PT.
For example, a clinician on the core mission team might be asked on short notice to help a sport's team therapist, so the schedule could change rapidly. We reviewed the schedule daily, knowing that several adjustments might have to be made over the course of the day…thank goodness for online scheduling and flexible staff!
Fortunately, the athletes were healthy and in very good shape; there were few onsite injuries and very little illness. This might have been an offshoot of the tough protocols!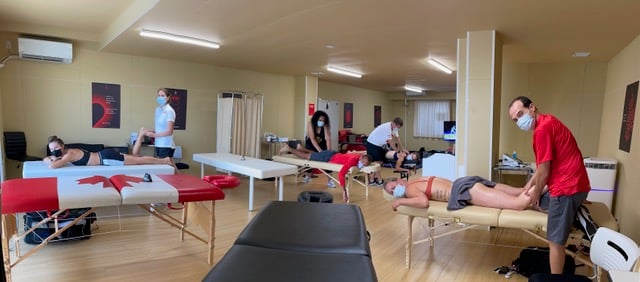 Core Health Sciences Team Therapists at work
What did you enjoy the most?
This Olympics was unique, in that with the COVID protocols in place, there were opportunities to get to know others on the mission team. The athletes arrived five days before their event and had to leave within 48 hours of finishing. This meant there were lulls in the day and we had the chance to spend time with team members that might not have happened otherwise. We did get together to watch some events – for example, as a group, we were able to watch (while socially distant) the gold medal soccer game. Most Games we would not be in the village as often together as we would go to events to cheer on other sports!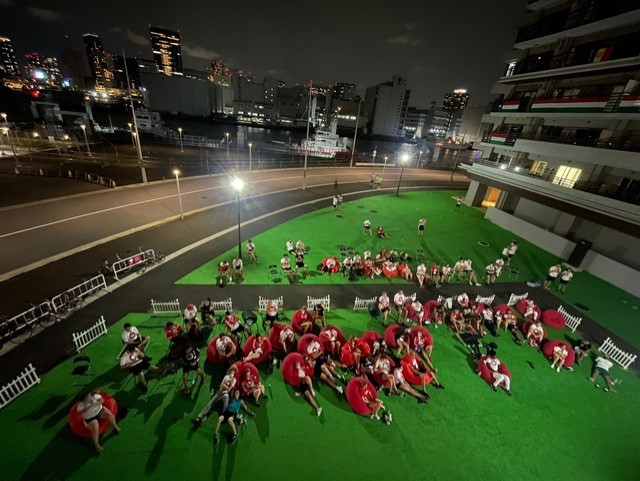 Gathering Team Canada to cheer on Team Canada!
What do you see as the most important contribution physiotherapists bring to athletes during the competitions?
At these events, the entire medical team collaborates to ensure the athlete is prepared to compete and give their best performance. Physiotherapists, whether with the core team or their sport's team, we are ready to share skills with each other or refer athletes to other clinicians as appropriate.
Physiotherapist selection for the core team is in part skills based, and we try to ensure a broad range of physiotherapy skill sets when reviewing applications. In addition to their basic physiotherapy skills, we look at individual skill sets. We try and have a group of therapists that have acupuncture and needling skills, manual therapy skills, good taping skills and more. During the Games we circulate a list of the skill sets in the Core PT team to the Canadian National Sport Organizations so everyone knows what is available for an athlete's care.
During Tokyo, I would say that the two most important skills PTs need at the international level are acupuncture and dry needling.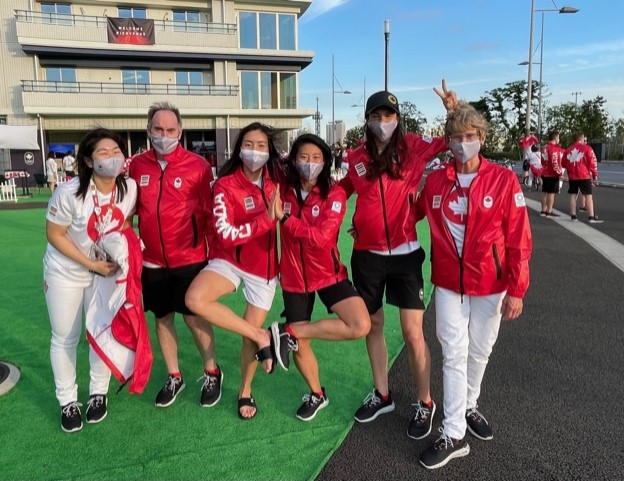 Pre-opening photos with Badminton Canada
Sometimes new trends in sport therapy are seen at major competitions. For example, after Michael Phelps used Cupping at Rio, many athletes in different sports incorporated it in their therapy. Did you notice anything similar happening in Tokyo?
Yes, and people are still using cupping as a treatment! But this year, the biggest shift was in kinesiology taping – athletes wanted skin tones and black tape. White kinesiology tape was also in demand as some sport organizations only allow white.
How did you use kinesiology tape with the athletes during the Olympics?
I think therapists are learning to understand the benefits of using kinesiology tape – there are more studies being published, and they help with its increased acceptance. And once you learn how kinesiology tape moves, you can use your clinical reasoning to determine its best use for a specific injury.
We use many types of tape with the athletes, depending on the need. The adhesive non-elastic tape restricts movement and can only be used in the short term, as it loosens, can irritate the skin, and does not stay on post sweating, while kinesiology tape is lighter, elastic, and can be worn longer. It really depends on the need – we may use a more rigid tape (Zinc oxide) with an athlete who has had a recent ankle sprain, while the kinesiology tape would be best with an athlete whose ankle injury was several weeks ago but still needed support and proprioceptive input.
Sometimes we use the two tapes together. For example, one athlete had a dislocated shoulder but still wanted to play. We used the kinesiology tape for comfort and joint positioning that allowed them to sleep, and in the early morning we used rigid tape over the kinesiology tape so they could compete.
Another time, when an athlete ruptured their Achilles tendon, we used kinesiology tape to bring the swelling down then stabilized their foot in a boot for the trip home.
Again, clinical reasoning will determine best application of tapes – considering pros and cons of tapes and what will best treat that injury.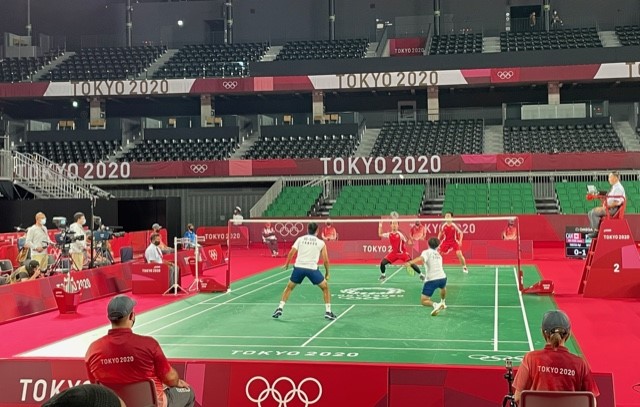 Badminton Competition Team Canada
If you had any recommendations for younger sport physiotherapists who might aspire to working with elite athletes, what would they be?
The first thing I would say is 'don't rush'! Experience and recognition are crucial for participation at national and international levels. These are my suggestions for building them.
· Get a lot of experience in sport PT, starting at the community or provincial level. The more experience you have, the more you will recognize injuries and develop the analytical skills to know the best ways to treat them. And people will see how you work.
Take courses – for example, Sport Physiotherapy Canada offers excellent courses, and courses present the opportunity to meet more experienced sport PTs.
Find mentors – you will learn something every time you work with someone. This is true at every level, so make this part of your career growth plan.
Get experience in other areas of physiotherapy practice. For one thing, a PT travelling with a team needs to know when to refer to a physician, for illness as well as for sport injuries. And you may need other PT skill sets – I used percussions in Tokyo on one of the athletes to clear their chest.
Develop your 'soft skills' for working with the athletes and with other therapists. Be able to recognize what is necessary for the athlete to succeed: it is not about the individual PT – it's the skill/technique that is required. The whole 'family' works together to help the athletes perform and achieve their best.
Any final thoughts to share?
I'd like to acknowledge Dr. Michael Wilkinson (Vancouver), who was our Chief Medical Officer, and the whole Canadian Olympic Committee, for their dedication to the athletes. The COC is a great group to work with – everyone worked extremely hard to make the Olympics run smoothly and safely for Team Canada. Thank you, Dr. Jessica Curran, Chief Doctor, for her guidance and support as we led the Health Sciences Team at the Tokyo Olympics.
Therapists should also know that in future, all medical and rehab staff at international events will need some form of certification to qualify, so it's important keep informed of these developments.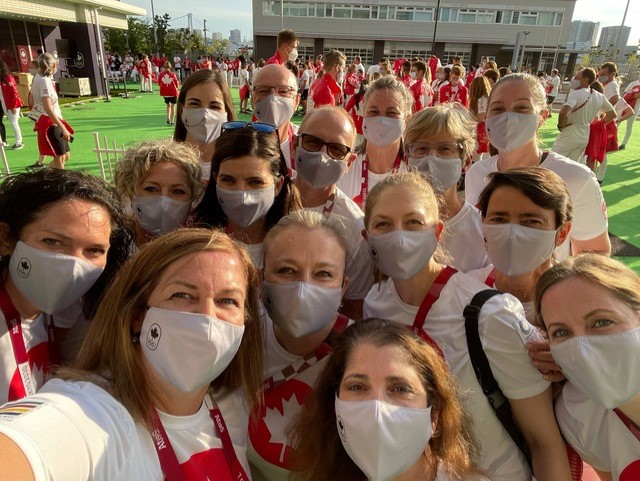 Core Health Sciences Team Tokyo 2020
*All photos are authroized and provided by Lois Pohlod.
--
About author: Carol Miller is a physiotherapist (ret) and independent consultant. As a physiotherapist she worked in all practice areas across Canada before moving to the national physiotherapy Association with the Practice and Research department.
--
INTERVIEW AVEC THÉRAPEUTE EN CHEF DES JEUX OLYMPIQUES DE TOKYO 2020 - Lois Pohlod
Nos remerciements à l'équipe du Canada !
Le Canada a remporté un nombre impressionnant de médailles (24) aux Jeux olympiques de Tokyo 2020. Nous avons l'honneur de nous entretenir avec Lois Pohlod, thérapeute en chef des Jeux olympiques, et de partager son expérience de ces Jeux olympiques extraordinaires malgré la pandémie.
La performance de l'équipe canadienne aux Jeux olympiques de Tokyo a été exceptionnelle ! Les athlètes comptent sur les compétences de l'équipe médicale pour les aider à rester au sommet de leur performance lors de leurs épreuves, et l'ajout des protocoles COVID-19 a constitué une responsabilité supplémentaire. Comment cela a-t-il affecté votre rôle de thérapeute en chef ?
J'ai participé à la mise en œuvre des protocoles COVID-19 exigés et à l'installation des équipements nécessaires. Nous avions besoin d'un grand nombre d'équipements spécialisés pour assurer la protection des athlètes et du personnel - désinfectants pour les mains, thermomètres, masques et toute la technologie adéquate.
Mon rôle consistait à informer tous les membres de l'équipe sur l'organisation de la clinique et le protocole COVID, sur la manière de suivre et de veiller au respect des normes. Le Japon avait instauré des protocoles stricts pour les tests Covid quotidiens. À l'arrivée, chaque membre de l'équipe a reçu un sac de tubes à essai pour les " tests de crachat " quotidiens. J'ai cru comprendre que 600 000 tests de crachat auraient été effectués en marge des Jeux olympiques !
Nous avions également l'obligation de porter des masques pendant la majeure partie de notre séjour, 24 heures sur 24 et 7 jours sur 7. Parfois, nous portions un deuxième masque lorsque le bus de transport était fortement achalandé. Le port du masque est devenu si naturel qu'il m'a semblé étrange de ne pas en porter un en permanence une fois rentré chez moi.
Une des bonnes choses est l'espace dont nous disposions lors de ces Jeux Olympiques. À Rio, les professionnels soignants s'étaient vu attribuer deux appartements dans lesquels étaient logés à la fois des médecins et des thérapeutes, et un autre appartement pour le noyau de thérapeutes et du personnel de l'ONS. À Tokyo, pour respecter les exigences du protocole Covid, nous avions trois appartements. Je plaisantais en disant que j'étais "morte et allée au paradis de la thérapie" - il y avait tellement d'espace !
Nous ne pouvions pas quitter le village, sauf pour nous rendre au lieu où nous travaillions. Nous n'avions pas l'occasion de rencontrer d'autres physiothérapeutes et d'échanger des idées et des approches thérapeutiques ou d'assister à d'autres événements.
À quoi ressemblait une journée typique pour vous aux Jeux olympiques ?
Il n'y avait pas de journée " typique ". Même si je travaillais avec les athlètes des équipes de badminton et de triathlon, en tant que thérapeute en chef, mon objectif global était opérationnel : prévoir qui serait dans la clinique et à quel moment, et nous adapter aux changements dans les plus brefs délais.
La gestion du temps était un grand défi : il fallait trouver un équilibre entre le temps passé à la clinique et le temps passé aux événements, tout en gardant la flexibilité de pouvoir dépêcher un thérapeute pour assister un collègue d'une autre équipe ou auprès d'une équipe qui ne possédait pas de thérapeute attitré.
À titre d'exemple, on pouvait demander sans préavis à un clinicien de l'équipe de la mission principale de venir en aide à un thérapeute d'une discipline sportive, cela entraînait donc un changement soudain de l'horaire. Nous passions l'horaire en revue tous les jours, sachant que plusieurs ajustements pourraient être faits au cours de la journée... dieu merci pour la planification en ligne et le personnel flexible !
Heureusement, les athlètes étaient en bonne santé et en très bonne forme ; les blessures sur place étaient peu nombreuses et les maladies très rares. Il s'agit peut-être d'une conséquence des protocoles rigoureux !
Qu'avez-vous apprécié le plus ?
Cette édition des Jeux olympiques était unique, dans la mesure où les protocoles du COVID étaient en place, ce qui a permis de faire connaissance avec les autres membres de l'équipe en mission. Les athlètes sont arrivés cinq jours avant leur épreuve et devaient repartir dans les 48 heures suivant la fin de celle-ci. Ainsi, il y avait des moments creux dans la journée pendant lesquels nous avions la possibilité de passer du temps avec les membres de l'équipe, ce qui n'aurait peut-être pas été le cas autrement. Nous nous sommes réunis pour assister à certains événements - par exemple, en tant que groupe, nous avons pu suivre (tout en étant socialement distants) le match de football pour la médaille d'or. Durant la plupart des rencontres, nous ne resterions pas réunis au village aussi souvent, mais nous nous rendrions sur place pour encourager d'autres disciplines sportives ! 
Quelle est, selon vous, la contribution la plus importante que les physiothérapeutes apportent aux athlètes pendant les compétitions ?
Lors de ces événements, toute l'équipe médicale collabore pour s'assurer que l'athlète est prêt à concourir et à donner sa meilleure performance. Les physiothérapeutes, qu'ils fassent partie de l'équipe principale ou de leur discipline sportive, sont prêts à partager leurs compétences entre eux ou à orienter les athlètes vers d'autres cliniciens, le cas échéant.
La sélection des physiothérapeutes pour l'équipe principale est en partie basée sur les compétences, et nous essayons de garantir un large éventail de compétences en physiothérapie lors de l'examen des candidatures. En plus de leurs compétences de base en physiothérapie, nous examinons les compétences individuelles. Nous essayons d'avoir un groupe de thérapeutes compétents en acupuncture et en aiguilletage, en thérapie manuelle, en taping, etc. Pendant les Jeux, nous avons fait circuler une liste des compétences de l'équipe principale de physiothérapie auprès des organismes nationaux de sport du Canada pour informer tout le monde des ressources disponibles pour les soins des athlètes.
Pendant les Jeux de Tokyo, je pense que les deux compétences les plus importantes dont les physiothérapeutes avaient besoin au niveau international étaient l'acupuncture et la puncture physiothérapique avec aiguilles sèches.
Parfois, on observe de nouvelles tendances dans la pratique de la thérapie du sport au cours de grandes compétitions. Par exemple, après que Michael Phelps a eu à utiliser le ventouses à Rio, de nombreux athlètes de différentes disciplines l'ont incorporé dans leur thérapie. Avez-vous remarqué quelque chose de similaire à Tokyo ?
Oui, et les gens continuent de se servir des ventouses comme traitement ! Mais cette année, le plus grand changement s'est produit dans le domaine des rubans kinésiologiques - les athlètes voulaient des bandes de couleur chair et des bandes noires. Le ruban kinésiologique blanc était également très demandé, car certaines organisations sportives n'autorisent que le ruban blanc.
De quelle manière avez-vous utilisé le ruban kinésiologique auprès des athlètes pendant les Jeux olympiques ?
Je constate que les thérapeutes découvrent peu à peu les avantages de l'utilisation du ruban kinésiologique - les études publiées sont de plus en plus nombreuses, ce qui contribue à son acceptation progressive. Dès que vous apprenez comment le ruban kinésiologique fonctionne, vous êtes en mesure d'utiliser votre raisonnement clinique pour déterminer son utilisation optimale pour une blessure spécifique.
Nous utilisons plusieurs types de bandes adhésives auprès des athlètes, en fonction des besoins. Le ruban adhésif non élastique limite les mouvements et ne peut être utilisé qu'à court terme, car il se desserre, peut irriter la peau et ne se maintient pas en place après la transpiration, tandis que le ruban kinésiologique est plus léger, élastique et reste en place assez longtemps. Tout dépend vraiment du besoin - nous pouvons utiliser une bande plus rigide (oxyde de zinc) chez un athlète victime d'une entorse récente de la cheville, tandis que le ruban kinésiologique est préférable chez un athlète dont la blessure à la cheville remonte à plusieurs semaines mais qui a encore besoin de soutien et d'apport proprioceptif.
 Parfois, nous utilisons les deux rubans en même temps. Prenons l'exemple d'un athlète présentant une épaule disloquée mais désireux de poursuivre le jeu. Nous lui avons appliqué le ruban kinésiologique pour assurer son confort et le positionnement de ses articulations, ce qui lui a permis de dormir, et au petit matin, nous avons appliqué une bande rigide par-dessus le ruban kinésiologique pour le remettre en compétition.
Dans un autre cas, un athlète s'est rompu le tendon d'Achille. Nous avons utilisé du ruban kinésiologique pour réduire l'enflure, avant de stabiliser son pied dans une botte pour le voyage de retour.
Là encore, le raisonnement clinique déterminera la meilleure application des rubans adhésifs - en tenant compte des avantages et des inconvénients de ces derniers et de la meilleure façon de traiter la blessure.
Si vous aviez des recommandations à adresser aux jeunes physiothérapeutes du sport qui aspirent à travailler avec des athlètes élites, quelles seraient-elles ?
La première chose que je leur dirais est "ne pas se précipiter" ! L'expérience et la reconnaissance sont cruciales pour la participation aux niveaux national et international. Voici mes suggestions de comment les acquérir:
Enrichir son expérience en physiothérapie sportive, en commençant par le niveau communautaire ou provincial. Plus vous gagnerez en expérience, mieux vous reconnaîtrez les blessures et développerez des compétences analytiques pour déterminer les meilleures pratiques de traitement.

Et on pourra constater votre manière de travailler.

Suivre des cours - notamment, Sport Physiotherapy Canada offre d'excellents cours, et ceux-ci offrent la possibilité de rencontrer des physiothérapeutes du sport expérimentés.

Trouver des mentors - vous apprendrez quelque chose à chaque fois que vous travaillerez avec quelqu'un. Cela est vrai à tous les niveaux, alors intégrez-le dans votre plan de carrière.

Acquérir de l'expérience dans d'autres domaines connexes à la pratique de la physiothérapie. Il est important qu'un physiothérapeute qui se déplace avec une équipe sache à quel moment il doit consulter un médecin, que ce soit pour une maladie ou pour une blessure sportive. Il se peut que vous ayez besoin de compétences supplémentaires en physiothérapie. À Tokyo, j'ai utilisé des percussions pour dégager la poitrine de l'un des athlètes.
Développer ses " compétences générales " pour travailler avec les athlètes et avec d'autres thérapeutes. Soyez capable de reconnaître ce qui est nécessaire pour la réussite de l'athlète : il ne s'agit pas du thérapeute individuel - c'est la compétence/technique qui est requise. Toute la " famille " travaille ensemble pour aider les athlètes à réaliser leurs meilleures performances et à atteindre leurs objectifs.
Une dernière pensée à partager ?
J'aimerais remercier le Dr Michael Wilkinson (Vancouver), qui occupait le poste de chef du personnel médical, ainsi que l'ensemble du Comité Olympique Canadien, pour leur dévouement auprès des athlètes. Le COC représente un groupe avec lequel il est très agréable de travailler - tout le monde a mis les bouchées doubles pour que les Jeux olympiques se déroulent sans heurts et en toute sécurité pour l'équipe canadienne. Je remercie également le Dr Jessica Curran, médecin en chef, pour ses conseils et son soutien alors que nous dirigions l'équipe médical aux Jeux olympiques de Tokyo. 
Les thérapeutes devraient également savoir qu'à l'avenir, tout membre du personnel médical et de réadaptation dans les compétitions internationales devra obtenir une certification quelconque pour être qualifié, il est donc important de se tenir informé de cette évolution. 
--
À propos de l'auteur : Carol Miller  est physiothérapeute (retraité) et consultante indépendante. En tant que physiothérapeute, elle a travaillé dans tous les secteurs de la pratique à travers le Canada avant de rejoindre l'Association nationale de physiothérapie au sein du département de la pratique et de la recherche.