Certification labels healthcare professionals need to consider when purchasing clinical equipment.
Why is it important to understand medical device regulations?
As a healthcare professional, it is important you consider medical device regulations and whether the equipment you are purchasing complies with norms established by the Government of Canada. Canada has one of the best regulatory systems in the world for medical devices. Their stringent approval process gives clinicians peace of mind in knowing that the clinical equipment being used on their patients is safe and will not harm when properly administered.
However, it is not always easy to navigate through the various regulatory standards. Read on to learn more about how medical devices are regulated in Canada, and what to look for when purchasing rehab equipment.
How are medical devices classified in Canada?
Health Canada indicates that "medical device covers a wide range of products used in the treatment, mitigation, diagnosis or prevention of a disease or abnormal physical condition." This includes equipment used by physiotherapists, chiropractors, and massage therapists.
The Medical Devices Bureau of the Therapeutic Products Directorate (TPD), which is the national authority that assesses the safety and quality of medical equipment in Canada, categorizes medical devices as follows:
Class I:

Low risk devices, including wound care and non-surgically invasive devices.

Common use in clinics include lumbar rolls, treatment tables, medical face masks, gowns, and face shields.


Class II

: Low-to-medium risk devices, such as contact lenses, and the majority of surgically invasive devices (e.g., surgical gloves, needles, magnetic resonance imaging equipment).


Common use in clinics include shockwave units, acupuncture needles, tens machines, ultrasound units, electrotherapy, MR5 Active Pro Laser, and Pain Away Laser.

Class III

: Medium-to-high risk devices, such as hip implants, glucose monitors, ultrasound diagnostic imaging equipment, and surgically invasive devices that are intended to be absorbed into the body or that are intended to remain in the body for at least 30 consecutive days.

Common use in clinics such as high-intensity laser units.

Class IV

: High-risk devices, such as pacemakers and surgically invasive devices that diagnose, control, or correct a defect in the central cardiovascular system. Device manufacturers, importers, or distributors are responsible for classifying this equipment.
Prior to selling a device in Canada, manufacturers of Class II, III and IV devices must obtain a Medical Device Licence. Although Class I devices do not require a Medical Device Licence, they are monitored through Establishment Licences. You can get access to the Medical Devices Active Licence Listing (MDALL) here to learn more about all licensed Class II, III and IV devices. Also, when you browse OrthoCanada's website, you can find the MDALL number on each medical device product page. Here is an example for a high-intensity laser.
Medical device electrical certifications in Canada
When purchasing medical equipment for your clinic that have an electric outlet, you must make sure it has one of Canada's approved electrical certifications, such as: CSA, C-UL (cUL), C-ETL (cETL) or QPS .
CSA

All Canadian provinces have adopted the CSA Group (CSA) electrical standards, which means that certification is mandatory for all electrical products to be used in Canada. These standards focus mainly on electrical safety and fire hazard.
C-UL

When a product is certified by Underwriters Laboratories (UL) it will feature a C-UL certification mark, which indicates the product tested by UL to meet Canadian Standards, also conforms to the CSA Standards. Based on the MRA (Mutual Recognition Agreement), there is cross-certification between the U.S. and Canada. In other words, both CSA and C-UL are nationally recognized testing laboratories that test to the same Canadian Electric Code (CEC) and National Electric Code (NEC) standards.
QPS

The Government of Canada makes it mandatory that electrical equipment be certified by a nationally accredited certification body. By the same laws, manufacturers have a choice. They can choose from several equally accredited testing laboratories. QPS is a mark that is legally equivalent to CSA and C-UL.
TUV

TÜV SÜD has been accredited by the SCC as a Canadian Certification Body (CB) and is authorized to test electrical products to the requirements of the Canadian Electric Code.
Here are some common stickers found on medical devices in Canada: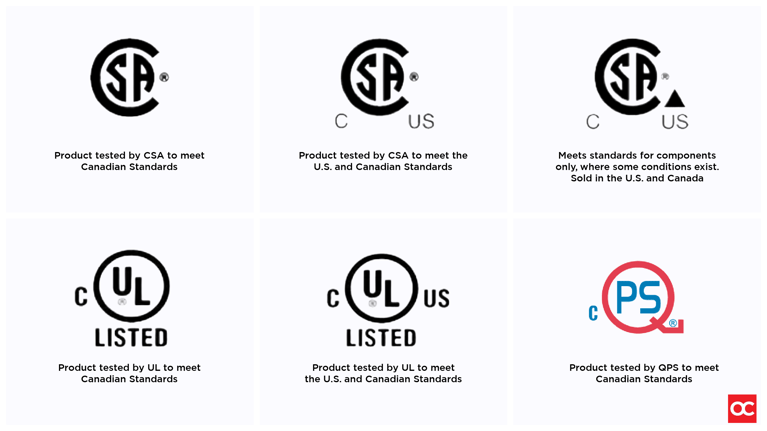 Here are some images of certified treatment tables and massage tables sold by OrthoCanada.
It's important to note that tables, in their entirety, need to meet Canadian safety standards, not just the actuator and control box. When the entire table has been inspected and approved by one of the regulating bodies above, it has been cleared to be electrically safe and structurally safe as a load bearing test is also performed during inspection.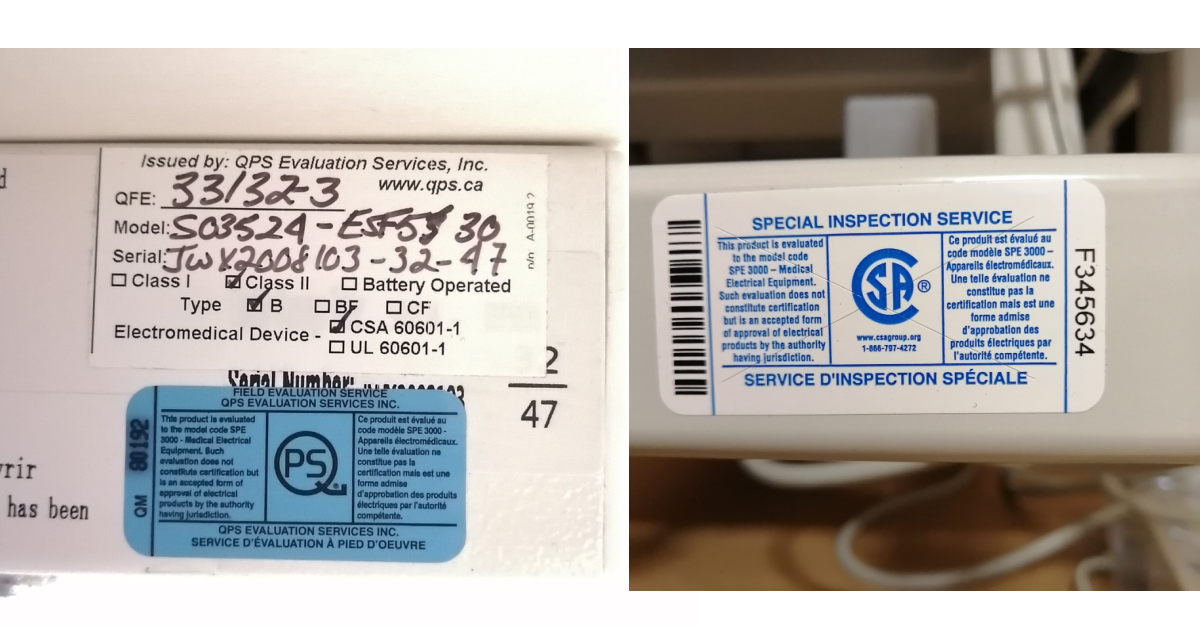 What is the CE mark?

There is a common misunderstanding that the CE mark can be applied to Canadian medical devices. However, this is not the case. In fact, the CE mark only applies to products that are sold in the European Economic (EEA); it indicates that these products comply with relevant European norms as stipulated by the European Committee for Electrotechnical Standardization (CENELEC). Therefore, the CE mark is relevant in Europe and other parts of the world, but not in Canada nor the United States.
Why is medical device certification so important?
As a healthcare professional in Canada, it is critical that you are aware of the type of medical equipment you are purchasing—both for the safety of your patients as well as yourself and your team.
While there are many products available on marketplaces such as Amazon and other international sites, not all of them have gone through proper regulatory evaluation and certification for the Canadian market, hence our word of caution. Always choose medical devices that have the proper CSA, C-UL, C-ETL, QPS or other equivalent approval, which will ensure you optimize the successful outcome of a clinic inspection or insurance claim for damage.
Need more information on an upcoming purchase and would like peace of mind that it is properly certified? We are here to help!
Dany Lafontaine

PhD Biomechanics
Capital Equipment Consultant

1-800-561-0310 ext 1720

Karen Wright

Capital Equipment Consultant

1-800-561-0310 ext 1719

Razi Khaddage

Biomedical Eng.
Director of Capital Equipment Sales & Services

1-800-561-0310 ext 1704